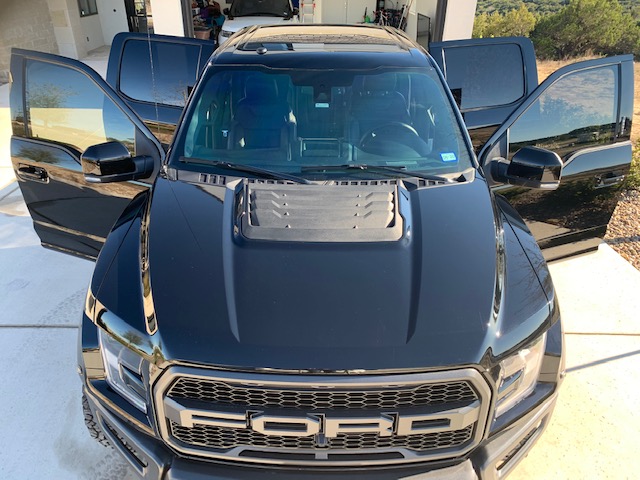 We keep our customer's vehicles looking great by providing Doorstep Car Detailing Service. We will continue with the latest car detailing products for the best results.
The best staff of professional auto detailers at Radiant 'Mobile' Detail operate with the highest level of integrity to build our desired reputation, through our service promise and our commitment, to provide a safe and healthy environment for our customers and employees.
We aim to clean your car to perfection and inspect the vehicle thoroughly to make sure that it is clean.
Radiant Mobile Detail
Now Offering FREE On-site Estimates!
Now Accepting Bitcoin and other select crypto for payments! Click here to learn more!
Please Note! If you live in an apartment complex, We can only service modernized apartment complexes with car wash stations.
Customize Your Own Package!
Radiant 'Mobile' Detail is a family owned mobile car cleaning and detailing service that is located in the heart of the south Texas hill country just north of San Antonio in Boerne, Texas.
We were formed in the early summer of 2019 and have been going strong ever since.
We have a 25 mile radius of operation and cater to the residential population. We recognized a great demand for mobile detailing in this area due to the high concentration of busy business owners and economic prosperity.
Our goal is to make these important people's lives just a little bit more convenient so they can do what they do best without having to take the time it takes to drop off their vehicles, wait for hours, watch children and worry about the 50 other things they have to do that day.
We come to you! We aim to clean your car to perfection and inspect the vehicle thoroughly to make sure that it is clean.
We want to point out the benefits of having your car detailed:
Your vehicle carries millions, if not billions of unseen creatures. Too much dirt, dust or debris inside your car allows these germs to circulate in your vehicle. A thorough cleaning with vacuums and sterile wipes removes these particles and kills germs, and is another reason why detailing your car is important.
Preserve paint condition:
Your car's exterior paint can be affected by dirt, dust, and
debris from the road
Restore Interior Comfort:
When you get behind the wheel of your car, you are sure to have an improved driving experience if the interior of your vehicle is fresh!
Therefore, don't delay! If you have pets and/or children, or have not had your vehicle detailed since you bought it make this investment today!
---
Our Summer Special!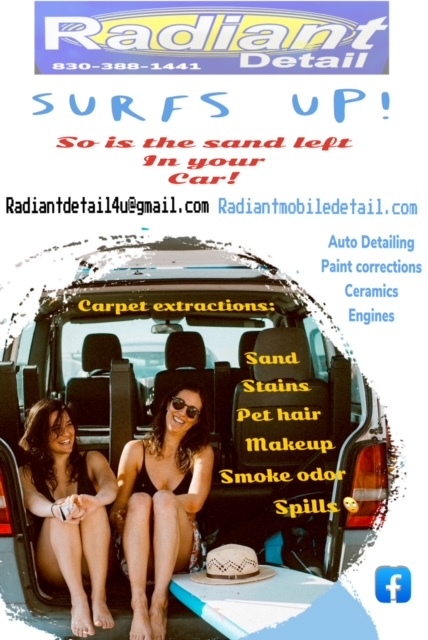 Call now! 830-388-1441
Vehicle Information / Book Time
Testimonial

Joseph Briggs: I would HIGHLY recommend Radiant Mobile detail. They did an outstanding job on my Black E300 Mercedes Benz. Professional, affordable, trustworthy, on time and paid attention to every detail. I will be using their services in the future! Thanks guys, I am very happy with my car!

Testimonial

Jennifer Williamson Silberberg: Matt came out to my home and made my mini van look brand new which is hard when my four kids have destroyed it. Courteous and professional service I highly recommend!!

Testimonial

Afarin Edwards: Matt detailed my car, it looks like a brand new car. Totally worth every penny you spend with these amazing people. Great service. Thank you so much. I will definitely recommend this company to my friends and family.

Testimonial

Jill Lauderdale: Matt detailed all three of our cars on the same day and they all looked better than the day they were brand new! And it was so convenient! He does amazing work. Radiant is a perfect description of his services. I'd highly recommend!

Testimonial

Casey Reed: The folks at Radiant Mobile Detail definitely have an eye for detail. Matt is extremely courteous, professional, and customer-centric. His service exceeds expectations and I will be using them in the future. 5 stars!!!

Testimonial

Elizabeth Carrion Biles: highly, HIGHLY recommend!!! all 3 of our vehicles restored to mint condition. my husband was impressed which is hard to do. 😉

Testimonial

Tami Karnes: Awesome work...he comes to you so you can get your car detailed while you work, shop or get things done around the house!
Helpful Tips On Automotive Detailing

Proudly Serving The Boerne Texas Area!
Call Us Today At (830) 388-1441 To Schedule Your Detailing!